Aluminum Casting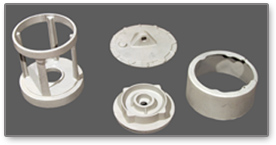 All casting processes, which are used for casting metals can be applied on aluminum for its casting. A few metals have this kind of quality like aluminum. If we arrange these casting processes according to the decreasing order of amount of aluminum,
Gravity Die Castings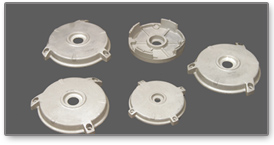 If you want to go for mass production and that also for fully mechanized casting, then Gravity Die Casting is a good casting process. For producing smooth and textured, well defined, accurately dimensioned metal parts, gravity-die casting method is also very good process.
Aluminum Casting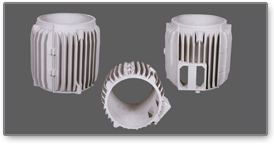 For hundreds of years, among all other castings, sand casting continues to be one of the most popular casting methods. Even today, it has a great significance in the area of large metal forms production.
Pressure Die Castings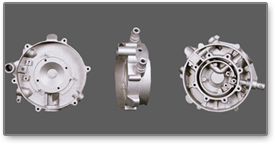 The pressure die casting process has evolved to permit design of products to reduce metal content, lessening weight and cost. Through this process, molten metal is injected into a steel mold or die with a die casting machine accompanied with pressure. We have set a new standard of quality in the pressure die casting process. This have been achieved through our own understanding, knowledge and perfection in this specific process. Today, we are considered as one of the best manufacturers and suppliers of Pressure die casting of single pieces weighing  from  0.5 gm to 4 kg.
Zinc Casting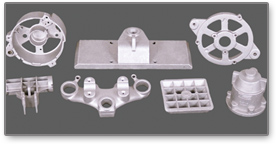 KEVIN METAL CAST is a well established manufacturer exporter of high precision zinc castings. The zinc castings offered are best for high volume, net-shaped, tight tolerance metal component manufacturing. Zinc being the easiest alloy to cast, offers high ductility and good impact strength. It can also be easily plated. Thus making Zinc castings economical for small parts like building hardware, buttons and luggage fittings, electrical switchgear parts and decorative artware. Making the best utilization of our facility we cast all the primary zinc alloys used in casting.
Precision Machined Components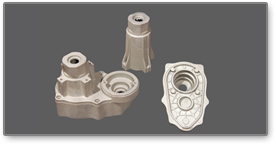 Our company specializes in manufacturing precision machined components and executes custom orders. The well laid CNC machining center backs us to manufacture components using various grades of Alluminium  and Zinc Metals. These machined components feature extremely close tolerance, smooth finish and dimensional stability.

We are equipped with CNC Vertical Machining Center and Acne Turning Center along with facility for milling and lathe machines. This enables us to meet the specifications of the clients with greater accuracy.